Accessories.
A picture can never capture the depth of colour or the true beauty of stone, so pictures of our Grave and Headstone Accessories are mainly to indicate design options.

All the Memorials are natural stone and all designs shown are available from stock in a varity of colours.

As these monuments are made from a natural product, the colour may vary, and this is part of the uniqueness of stone.
Newport Memorials can supply Memorials to individual specifications, in granite or marble and provide a comprehensive service to achieve the desired result.

Flower vases.

Flower center pieces.

Laser engraving on marble.

Laser engraving on slate.

Marble Angels.

Various sculptures.
A full range of accessories can be viewed at our showroom.
Marble Engravings.
You can choose from a range of marble to have your personalized verse engraved or pick from our extensive range of verses from our catalogues, you may also choose the shape of marble for the verse to be placed upon.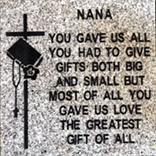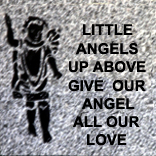 Call to our showrooms and we will be happy to both assist and advise in your needs.